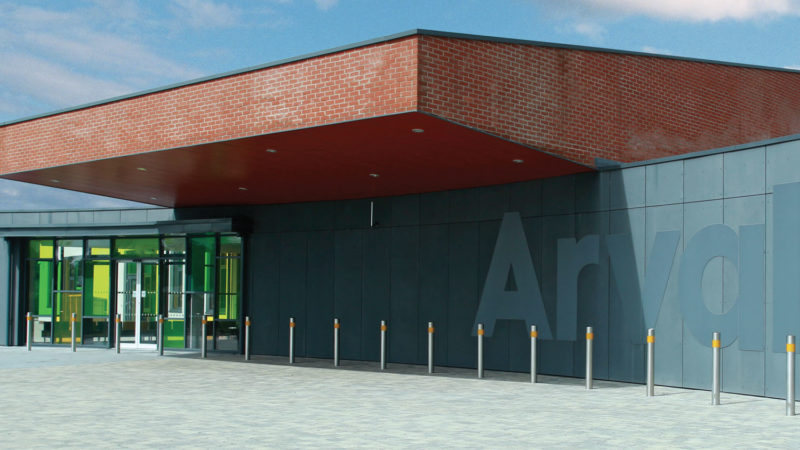 Arvalee School and Resource Centre
Project Start date:
Project Completion date:
"This project is another example of the broad spectrum of specialist services that Atlas World can deliver."
The experience of Atlas World in delivering fire and security systems for education projects was put to the test in the challenging setting of the new Arvalee School and Resource Centre in Omagh. Arvalee school is a new build school for children with severe to moderate learning difficulties, and is the first stage of an innovative new shared education initiative in Omagh. When completed, the new Strule Shared Education Campus will consist of a campus of 6 schools with communal sports, performance and ecology areas. Atlas was appointed by GR White & Son Ltd, the electrical contractor on the project, and also worked closely with electrical consultant, Caldwell Consulting, to design, install and commission a wide range of fire and security measures for the project. This included:
Fire alarm
CCTV
Access Control
Intruder Alarms
Public Address (PA) systems
Induction loop systems
Staff attack
Audio Visual Systems
The new school building was opened in September and throughout the project the entire team was under pressure to meet a strict deadline timetable. In the end, however, the project was completed on schedule and on budget. Stephen added, "We enjoyed a superb working relationship with the team from GR White & Son and that helped to ensure we could meet the required deadline." Arvalee is a beacon of first class design and construction and has set the bar high for the other five schools that will follow. The building itself has a main central spine with four dedicated offshoot 'pods' dedicated to specific age groups. Each required its own individual systems. With all these different elements involved, Atlas utilised the expertise within the company. Stephen Hendren, Senior Technical Sales Consultant, was responsible for the implementation of the design specification of the equipment that was installed at the site. Stephen Hendren, explained, "We have worked on a wide range of schools over the years but the complexity of the Arvalee project put us to the test. I'm delighted that we were able to pass it. It required a few enhanced systems and we worked closely with Caldwell Consulting to meet all the required specifications and GR White to ensure the installation process ran smoothly." This project is another example of the broad spectrum of specialist services that Atlas can deliver. Offering services which include fire and security systems, energy, AV, assisted technology and also maintenance of all systems. While Atlas World has continued to offer each service independently, many customers have taken the opportunity to benefit from the overall provision on offer. Atlas World has continued to be specified as a Tier 1 supplier on many projects and will look to build on this success in the future, both in Northern Ireland and beyond. If you have a project that you think we can assist you with, click 
here
 to contact us today.